View Our Current Inventory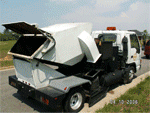 Quick link
to see current sweepers in-stock. The majority of our pre-owned sweepers have been refurbished and are offered with our industry-leading limited warranty.
That's just one of the many reasons you can buy with confidence at Used Sweepers of America, Inc.!
---
Our Current Featured Sweepers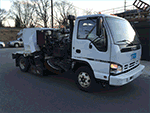 2006 Isuzu NPR with TYMCO 210 SRE Sweeper Unit
Truck has ridiculously low miles at approximately 15,000 miles and the sweeper unit has only approximately 2,100 hours. Click on photo slideshow to see it in a larger size. (Note this will open into a new window.)
Sweeper features the SRE package (sound reduction engineering), abrasion-resistant package, dual curb brooms, water system for dust control and strobe light as well as a/c and radio. This unit will be totally refurbished including the following: New hopper (stainless at an upcharge), new dust separator and new fan housing.
This unit will look stunning and make a front line truck for many years. As an added bonus, we just had all truck injectors replaced as well as the truck radiator with a total bill of $6,000. I know it shouldn't be that much but the machine broke down out of town, so you pay what they tell you to. With this equipment, current new sweeper pricing from Tymco is $99,315.
This unit will look nice be ready to run and sweep and will include delivery to your door (lower 48 states), operator and maintenance training and a full 6-month limited warranty on the sweeper unit, auxiliary engine, chassis engine and transmission. This unit is priced at only $64,900. If you're in the market for a highline used sweeper, you owe it to yourself to consider this one.
**And if helps your comfort level, I'll pay for your flight in to take a look at the truck pre-refurbished. When we start the process we basically take the units apart and then begin reconstructing them. We will then make a list of all items that will be done to the unit per your quality level.**

**Don't miss out on this one!**
1998 Mack Midliner cabover diesel chassis with Schwarze A-7000 sweeper unit. Incredibly low mileage and sweeper hours.
The truck is an ex-municipal truck and only has approximately 8,100 miles, and the sweeper unit only has 1,100 hours. This truck belonged to a small Borough and it was hardly used. This unit has dual steering and controls, dual curb brooms with power tilt and GEO, extra water capacity, dust suppression water system, front spray bar and air conditioning.
In refurbishing this unit, we're going to do professional sheet metal work on the hopper and repaint so it will be very solid and look excellent. We run our own sandblasting operation and if there are any other areas affected by corrosion, they will be dealt with as well. All in all, you'll be getting a top notch sweeper that will be ready to start sweeping upon delivery and the unit will look great and give you years of great service life. FYI, this unit retails for around $275,000 in today's market.
This unit will be totally refurbished and in excellent working condition as well as in great physical condition. The machine features our industry-leading 6-month limited warranty on the chassis engine and transmission, auxiliary engine and sweeper unit. This unit is priced very competitively at only $58,900.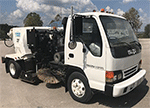 1996 Isuzu NPR Diesel with TYMCO 210 Sweeper Unit.
The truck has approximately 214,000 miles and the sweeper unit has about 4,500 hours. The sweeper features a Kubota 4-cylinder, 38.5 hp diesel engine, dual curb brooms, air conditioning, and radio. Click on the photo slideshow to access larger photos.
This is a very nice truck that has been maintained well. It is not your average beater/worn out truck. This unit also features our industry-leading 3-month limited warranty on the truck engine and transmission, auxiliary engine and sweeper unit. Price is $28,900.

---
Don't take chances with your next used sweeper.
Used Sweepers of America, LLC has only quality sweeping machines that are hand-selected using our many years of sweeping industry experience. We then go through them to ensure they will provide an excellent service life for our customers. That's why we can offer the industry's best warranty on our used sweeping equipment.
Get the best in used sweeper value
| | |
| --- | --- |
| | 25+ years in the power sweeping industry. |
| | America's best used sweeper warranty. |
| | Exclusive free loaner program. |
| | All sweepers are hand-picked for superb quality. |
| | Customer satisfaction a must for each and every sale. |
Phone: (256) 541-2500
or Send Email
Quality you can count on at competitive prices.
Used Sweepers of America, LLC is your top choice for used sweeping equipment.
We guarantee to you that we deliver a level of customer benefits and satisfaction not often found in the equipment industry.
If you don't see what you need in our Sweepers section, give us a call to discuss your needs, or send us an email telling us what you're looking for.
Copyright © 2005 – 2018
Used Sweepers of America, LLC
All Rights Reserved.
---
Our Home Office is:
110 Springtime Blvd.
Huntsville, Alabama 35802